I. Introduction :
Upward Continuous Oxygen-free Copper Rod Casting Machine is used for producing long bright oxygen-free copper rod. The raw material can be cathode or high grade scrap, through continuous up-casting into various specifications copper products. This equipment adopts advanced technology and environmental-friendly. The oxygen-free copper rods and copper profiles produced by the machine have many advantages for example, extremely high conductivity, low oxygen content and etc..
II.Equipment major components and description :
1)Copper melting furnace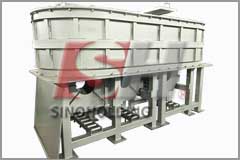 The combined induction furnace is designed by the principle of electromagnetic induction. The current passes through the resistance of the metal furnace charge to convert the electrical energy into heat energy and which melt the metal in the molten groove. The induction furnace adopts a structure that metal smelted and insulated in one furnace, with a partition wall in the middle and an flow passage at the bottom.
2)Upward continuous casting machine
It adopts a servo motor and which matches with the high-precision reducer to adjust the lifting and up-casting speed of the copper rod.
The servo motor transmits the power to the main drive shaft through the high-precision reducer, the main drive shaft pulls the copper rod. The pull-stop-reverse parameters can be set arbitrarily through the touch screen and PLC. A continuous copper water level tracking system is installed on the continuous casting machine and it is driven by an independent AC motor.
The copper rod clamping method is pneumatic and the crystallizers can be quickly lifted in an emergency state.
3) Take-up limit tension frame
The intermittent work of take-up motor is controlled by the tension of the copper rod.
4)Dual take-up machine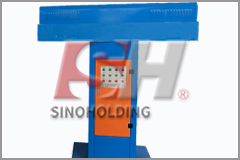 The take-up machine controls the frequency converter by the limit device to realize the synchronization of the up-casting and take-up speed and automatically collects the copper rod into the take-up platform..
5) Electrical control system
The electric control system consists of a set of induction furnace electric controlcabinet and a set of continuous casting machine electrical control cabinet.
The servo motor adopts Yaskawa product from Japan, the PLC adopts Mitsubishi product from Japan and the electrical components of induction furnaces are Schneider from France.
6) Temperature monitoring system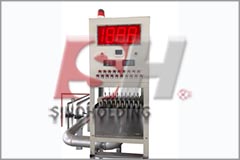 The equipment uses a high-precision intelligent temperature sensor to monitor the copper temperature inside the furnace, the total inlet water temperature and the water temperature of each outlet pipe to monitor the crystal quality of the copper rod and the operation of the induction furnace.
7) Water-cooling system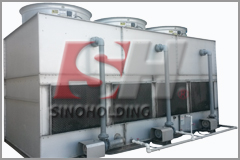 The water cooling system can be provided by the customer or provided by SINOHOLDING additionally. It is required to provide soft water with a pure water temperature of 35 Celsius (plus or minus 5 Celsius).
III. Techinical parameters
Model

No. of strands

Product size

Furnace type

Annual production

Consumption ( kwh/t )

SH-UCC1000

2

Φ

8-

Φ

25mm

Single furnace

1000t

≤350

SH-UCC2000

4

Φ

8-

Φ

25mm

Three-combined furnace

2000t

≤350

SH-UCC3000

6

Φ

8-

Φ

25mm

Three-combined furnace

3000t

≤350

SH-UCC4000

8

Φ

8-

Φ

25mm

Three-combined furnace

4000t

≤350

SH-UCC5000

10

Φ

8-

Φ

25mm

Three-combined furnace

5000t

≤350

SH-UCC6000

12

Φ

8-

Φ

25mm

Three-combined furnace

6000t

≤350

SH-UCC7000

14

Φ

8-

Φ

25mm

Three-combined furnace

7000t

≤350

SH-UCC8000

16

Φ

8-

Φ

25mm

Five-combined furnace

8000t

≤350

SH-UCC9000

18

Φ

8-

Φ

25mm

Five-combined furnace

9000t

≤350

SH-UCC10000

20

Φ

8-

Φ

25mm

Six-combined furnace

10000t

≤350

SH-UCC12000

24

Φ

8-

Φ

25mm

Six-combined furnace

12000t

≤350
---
Related suggestion:Copper StripsCopper Bus-bars Copper WiresRailway Contact Wires / Load-Bearing Cables